Dinah Mills, Winner of 2013 Gene Salem Award
The Director of the Lewis County Senior Center was named by the West Virginia Directors of Senior and Community Services as the 2013 Gene Salem Award winner.
This award was created by this Association in 2010 in remembrance of Kathryn Gene Salem. Gene was the director of Mason County Senior Center for 28-years. She retired in her 80's. She was very active in the West Virginia Directors of Senior and Community Services. She was a great advocate for seniors and senior programs. The first award was posthumously awarded in her memory to her son.
"The unselfishness, optimism, care and compassion that Gene had for everyone she met were noted, as well as her hard work, love and passion to make the lives of seniors better. Most of all was her undying faith, commitment and the joy she brought into a room," commented Robert Roswall, previous president of WVDSCS and present Commissioner of the Bureau of Senior Services.
The West Virginia Directors of Senior and Community Services seeks to honor those who exemplify the characteristics of Gene Salem. This award is given each year to someone who has demonstrated selflessness, exhibited a long term commitment to service and the betterment of the aging network and who have had a significant impact on the lives of senior citizens.
This year's award winner is Dinah Mills. Dinah has been the director of the Lewis County Senior Center for 33-years. She has also been an active member of WVDSCS for as many years. She has held many offices in this Association including president, treasurer, quadrant leader, legislative committee chair and baby boomer committee chair. She stated, "It's been an exciting adventure."
-From Weston Democrat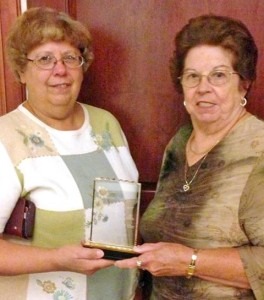 Pictured are Dinah Mills and Loraine Roberts, Director of the Wirt County Committee on Aging and the 2012 award winner.